Kate Mulgrew - Rank, Captain
First appeared in Star Trek - The Official Fan Club of Australia. Winter 1995. By Geogre Papadeas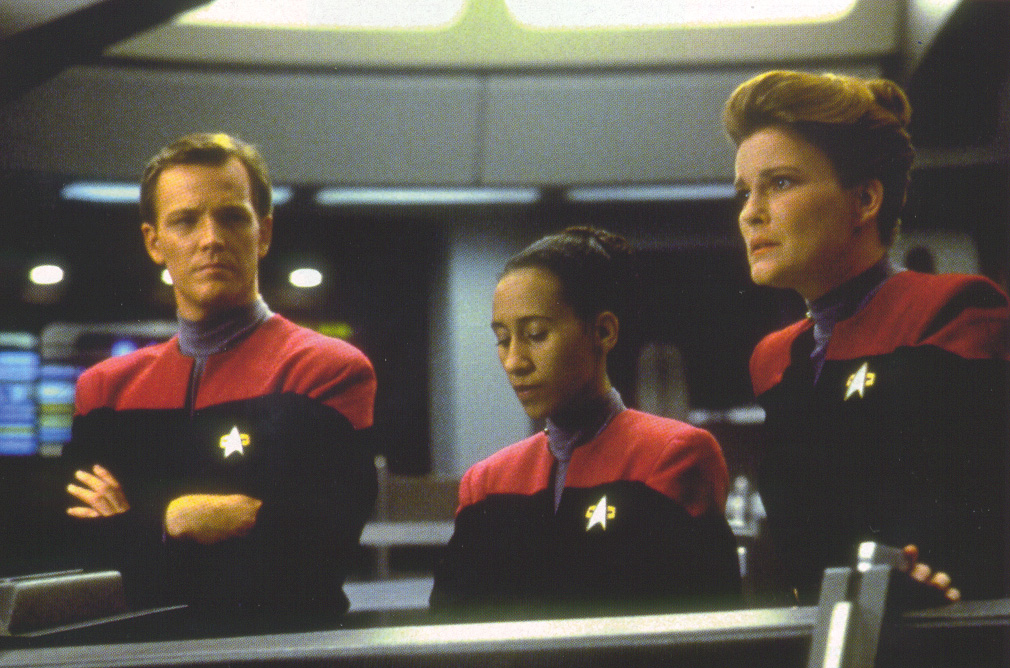 When Rick Berman, Michael Piller and Jeri Taylor set out to creat Star Trek: Voyager, their premise was clear and simple. Creat a background to allow creativity to explore new pathways, but keep Gene Roddenberry's philosophy firmly in place.
With this in mind, they indeed created a new perspective to the Star Trek universe. The delta quadrant, hitherto unexplored, and truly unknown, is now the site where "new worlds and new civilizations" will be sought out.
From the first vestige of conceptual thought, a female captain was one area that would be paramount to the defining of a fresh approach to the storytelling and writing.
After an extensive casting search, French-Canadian film star Genevieve Bujold was the chosen one. The 52 year old Genevieve was elevated to star status in the 1969 film, Ann Of The Thousand Days, for which she received an Academy Award nominations for Best Actress. Alas, Genevieve decided to depart the show after two days on the set causing Paramount some consternation in finding a replacement.
By a stroke of brilliance, the 39 year old Kate Mulgrew stepped into the role, and with a scant weekend to prepare took the role of Captain Kathryn Janeway and immediately made it her own. The petite, trim Kate, has asserted a powerful presence on the sets already, and has proven to be a commanding officer in the James T Kirk mold - leading by physical example.
It truly is an ironic and history repeating situation. Since Jeffrey Hunter starred in the first ever Star Trek pilot, Gene Roddenberry and his other executive producers have chosen to take relative unknowns (William Shatner, Patrick Stewart and Avery Brooks) and mold them into star quality leaders. With Genevieve coming aboard for her brief tenure, we had a star of the same magnitude as the late Jeffrey Hunter. Now with Kate Mulgrew replacing her, once again we have a less well known actor thrust into one of the most powerful positions in network television drama - a starship captain.
Kate Mulgrew is poised to step into television history. In commenting on her new role, Kate said "Captain Kathryn Janeway is the quintessential woman of the future both commanding and discerning in her warmth; she's authoritative while remaining accessiable." She added, "Beneath her extraordinary control runs a very deep vein of vulnerability and sensitivity that I look forward to exploring in seasons to come."
Kate grew up in Dubuque, Iowa, the oldest girl in a family of eight. She left home at the age of 17 and travelled to New York City to study acting. Upon arriving there, Kate enrolled at New York University and was accepted into Stella Adler's Conservatory. At the end of her junior year, Kate left the university to commit herself full-time to her craft.
Exhibiting some of the legendary "luck of the Irish," Kate was immediately cast as Mary Ryan on the ABC daytime drama Ryan's Hope, while simultaneously earning the role of Emily in a production of Our Town at the American Shakespeare Festival in Stratford, CT. Her role as Mary Ryan last two years. Her theatrical stinit ended a good deal sooner, but both set the stage for how he acting career would unfold.
At the age of 23, Kate was approached by then-head-of-NBC programming Fred Silverman, who offered her a starring role in a series he had created with her in mind - Kate Columbo. The series found Kate playing the wife of one of TV's most beloved detectives, Lt Columbo. While a critical success, the series was cancelled after two seasons, although it can still be seen in syndication under the title Kate loves a Mystery.
With several credits behind her, Kate's career blossomed. She went on to star in several feature films including Love Spell: Isolt of Ireland alongside Richard Burton and A Stranger Is Watching, with Rip Torn. She travelled to Europe to film the ABC mini-series The Manions of America with Pierce Brosnan, and spent time in Mexico filming the feature Remo Williams: The Adventure Begins. Kate went on to star in Throw Momma From the Train with Danny DeVito.
She returned to television as the star of the ABC drama Heartbeat, where she portrayed Doctor Joanne Springstein, the head of a medical clinic. This series, which aired for two seasons, won a People's Choice Award as Best Drama. Following this, Kate went on to co-star in the comedy series Man Of The People alongside actor James Garner.
In addition to her television roles, Kate is also a veteran of numerous theatrical productions. She recently made her Broadway debut in Black Comedy, a play written by Peter Schaeffer that also starred Nancy Marchand and Peter McNichol. Other stage appearances include starring roles in Titus Andronicus at the Shakespeare Threatre in New York City's Central Park; and Hedda Gabler and Measure For Measure at Los Angele's Mark Taper Forum.
Kate, the mother of two sons - 11 year old Ian and 10 year old Alec - has spent recent years guest starring on several popular television comedies. She played a Boston Councilwoman, and Sam Malone's love interest, on several important episodes of Cheers, and won the Tracey Humanitarian Award for her portrayal of an alcoholic anchor woman on an episode of Murphy Brown.
The recipient of an Honourary Doctorate of Letters for Artistic Contribution from Seton Hill University, Kate currently resides in Hollywood, California, with her two sons.
Given the kind of role that Mulgrew has to play, one could be forgiven for assumig that she be thought of as a feminist. "I just don't buy into it. Any time has been the right time for women. I've read too much to believe otherwise. If we'd just stop all this nonsensical banter about sexual superiority, we'd realise that it doesn't exist."
When it comes to the awe-inspiring contemplation that she has to follow in the footsteps of Shatner and Stewart, Mulgrew insists, "I'm not even thinking about it. I'm exercising absolute myopia and just focusing on Janeway. It's the only way to fly." The challenges of portraying the tough Janeway have been great so far, with the first few months on the set requiring 18 hour days to get the job done. A great deal of stamina and resilience is required, with the actor's trailer virtually becoming a home.
Speaking about her role Mulgrew adds, "the captain has to have very clearly delineated characteristics that perhaps I wouldn't have had even three or four years ago. She has to have an emotional centre, and intellectual centre, a power, a presence, a calm. Full thrusters, you know? This is a great woman."
In scoring the plush role, Kate has put behind her two year of difficult times. "There were weeks of tremendous rejection. I've never awakened one day in my life, from when I was 12 years old, that I didn't love acting. So it was deprivation of it, more than anything else, that I considered the loss."
Executive producer Jeri Taylor is very comfortable with the concept of a female captain. "One thing that I felt very strongly about was that, surely by the twenty fourth century, we can say that a woman can be successful without having at act like a man. There's room for a feminine side, a nurturing side, a warm side, for all those things that I think we all agree are mostly identified with women. There is no reason why she simply has to be Jean-Luc Picard with long hair."
A unique feature of Captain Janeway is that she used to be a science officer. She doesn't need a walking encyclopedia like Spock or Data to rattle off technical explanations.
"She is by profession a scientist who went into the military," explains Mulgrew. "As a brilliant scientist she rose to the top very quickly. She's a competent woman, but sad. She left her lover back on Earth. She can run this stuff, but there should be moments when we can absolutely see not the fractures in her life, but the letdown. It's that deep strain of vulnerability and longing that fuel the robustness of her spirit."
Kate shares an acting past that is similar to her predecessors. She has trodden the theatrical boards, and has a commanding presence in person and on the Voyager bridge. She shares a close working relationship with co-executive producer Michael Piller, who adds, "We have a cast of young, attractive people. Attractive not just in terms of physically attractive, but in terms of qualities they bring. Interesting people who are going to learn how to co-exist and learn from one another and grow. And they're all trying to get home on this one spaceship. My goal and my contribution to the development process is to say, 'Well, let's just do a rip-roaring action-adventure show and introduce some really neat characters.'"
With this in mind, the role of Captain Janeway is more parallel to the great Captain James T Kirk, who lead from the front, and by example. Similarly Mulgrew's portrayal is every bit as passionate and interesting, and only time will tell, if she will become as endearingly legendary.
For now though, she has the wind in her sails, and the horizon firmly in her sights.
| Home | Links | Fan Fic | Miscellaneous | Interviews |
---
First appeared 17th March, 2000