What's going on...
First Appeared in New Idea 29th January, 2000.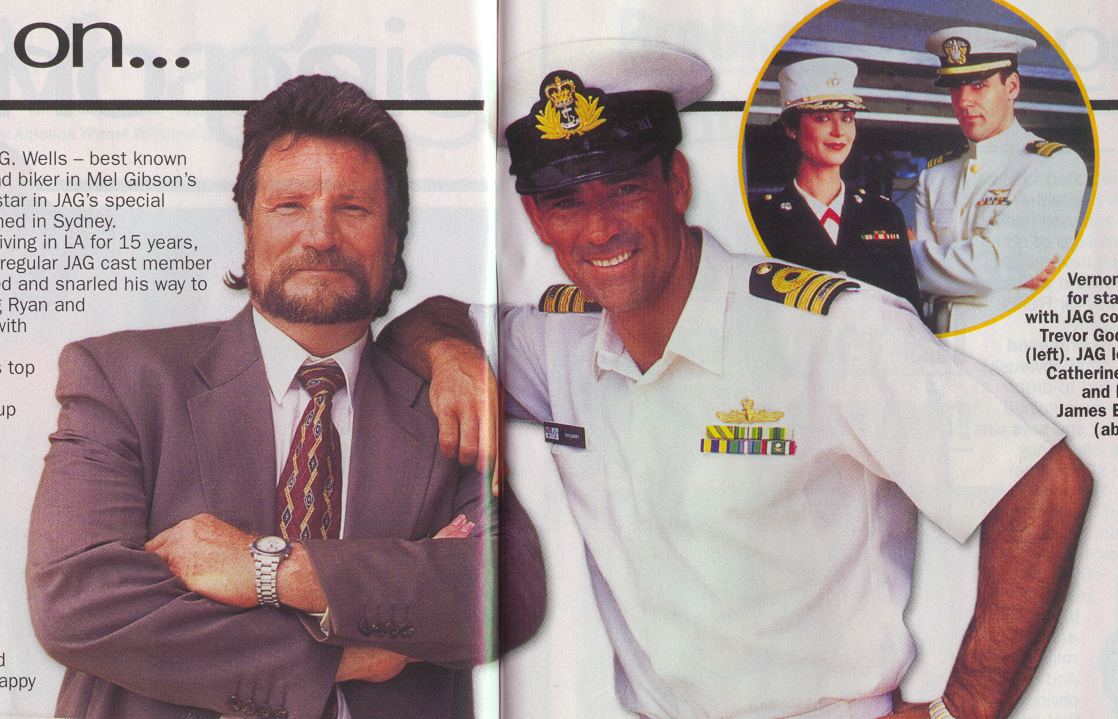 (My apologies for the photo, I couldn't do a lot with it with the short time I had to get this up!)
Aussie-born actor Vernon G. Wells - best known for the crazed leather-clad biker in Mel Gibson's Mad Max 2 - will guest star in JAG's special 100th episode being filmed in Sydney.
The typecast bad-boy's been living in LA for 15 years, alongside fellow Aussie export, regular JAG cast member Trevor Goddard. Vernon's growled and snarled his way to stardom in Innerspace with Meg Ryan and Dennis Quaid, and Commando with Arnold Schwarzenegger.
This timw, Vernon's curling his top lip for the camera's as a retired Australian Naval officer caught up in a JAG murder investigation.
The three week shoot showcases Sydney's famous beaches, a big bonus for water-lover David James Elliott, who plays Lt Cmdr Harmon Rabb Jnr in the series.
During a rare break in filming, David took wife Nanci and five-year old daughter Stephanie for a dip at Bondi Beach under the eye of a personal bodyguard. And there was no need to warn the happy trio about the harsh Aussie sun, as they played slip, slop, slap with each other.
(please note that there were a series of photos of David and his family on the beach. I just felt that it would be better not to add them to this page! Everyone needs some sort of private life!)
---
First appeared 24th January, 2000