The JAG crew roll into Manly
(I have no idea which paper this appeared in! Thanks to Clare for sending it.)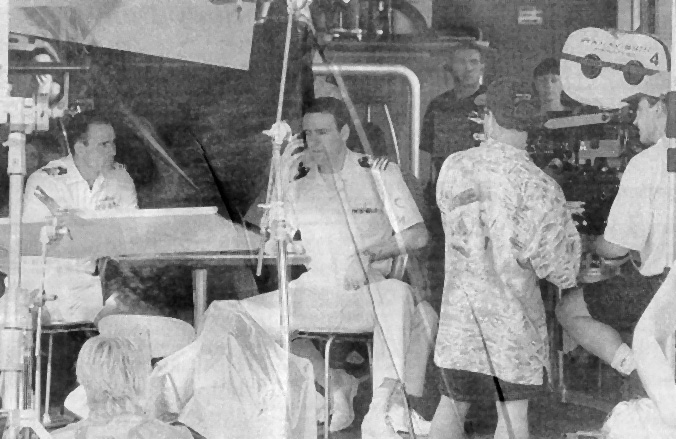 Lights, camera, action....the cast and crew of JAG were down-under, filming on the streets of Manly yesterday
Hollywood came to Manly yesterday when the JAG television team arrived on South Steyne.
And for star David James Elliott the visit to Manly was all work with little time to enjoy the summer weather.
Filming at Rimini Cafe, which was transformed into Uluru Cafe, closed the footpath and part of the road but everyone seemed to take the disruption in their stride.
Passers-by were politely asked by security men to cross the road so filming would not be interrupted and the occasional shout of "we're rolling -- quiet please guys" was heard.
About 50 onlookers at a time gathered across the street -- mostly unaware of what was going on. A few stood on tiptoes trying to glimpse the series' stars David James Elliott, Catherine Bell and Patrick Labyorteaux.
Thirty-five cast and crew arrived from the US for the shoot which also uses local actors and production staff.
The team will be filming in Manly for the next two days -- both on South Steyene and at St Patricks which will be used as a Supreme Court building.
JAG's co-executive producer Charles Floyd Johnson said the crew were all having a wonderful time.
He said he had been aware of the problems which Baywatch and Mission Impossible had had in Australia but was more curious as what had gone wrong as everything was going so right for the JAG team.
Stunt co-ordinator Diamond Farnsworth said he had co-ordinated a scene where David James Elliott gets into trouble driving on the "wrong" side of the road and not knowing how to drive through a round-about -- which is an unknown traffic device in the US. The Manly scenes will be part of the show's 100th episode which will screen in Australia later this year.
---
First appeared 23rd January, 2000