Kimberley snags Mr Jag
First appeared in Woman's Day February 2000.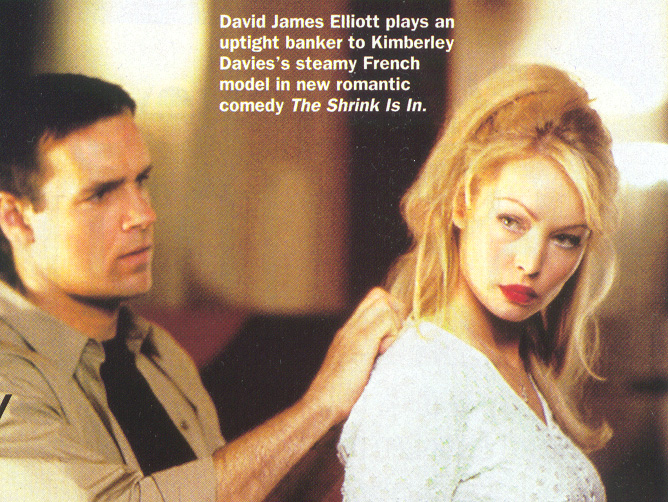 Sexy Kimberley Davies snagged the hunk jackpot of the year when she was cast alongside David James Elliott in new movie "The Shrink Is In."
And David, in Australia recently to film the 100th episode of TV's JAG, was certainly appreciative of his gorgeous co-star's obvious, er, assets. Apparently her role in the romantic comedy, which also stars Courtney Cox Arquette and new hubby David, is her most revealing.
"Kimberley plays my French model girlfriend who's driving me mad!" David laughs. "She's this hot, smokin' woman, the total opposite of my uptight banker character. They're two beautiful people who live together, sending each other insane."
"Off camera Kimberley was pretty concentrated on her role, so we didn't talk a lot, but she was lovely," he adds.
Mobbed by fans at each Sydney JAG location, David, who plays Lieutenant Commander Harmon Rabb, appeared happy to oblige the many autograph hunters and flash his pearly whites for the odd happy snap.
His wife Nancy Chambers and six-year-old daughter Stephanie were also in Sydney but kept a low profile, wandering around unrecognised.
Their freedom Down Under is far different from three years ago in their native LA, when David's celebrity status lead to threatening home phone calls and letters from obsesed fans.
"Hopefully that's not going to happen again," David says. "I dealt with that and it seems to have gone away. I've taken measures to protect myself and made adjustments to being in the public eye."
This was David's second visit here and our warm weather helped him recover from pneumonia, which wrecked his New Year eve plans.
"We were shooting an episode where I'm locked in a lower deck that's filling with water," he explains. "I spent three days in water up to my chest. I got sick two days later and it got worse when I went skiing in Canada so I had to fly hom to LA on December 31."
"Mind you, I did watch the Sydney fireworks on the news. Boy they were amazing!"
---
First appeared 27th February, 2000