Naval Gazing
The following story first appeared in The Who Weekly on 14 January 12, 2000.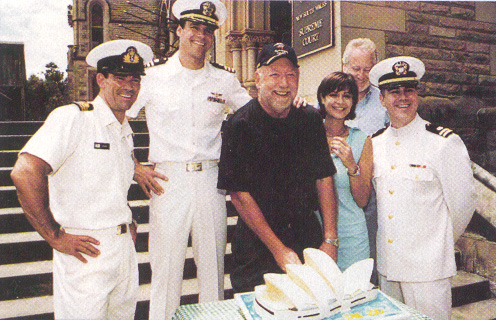 From left: Goddard, Elliott, Bellisario, Catherine Bell, Paramount's Gary Hart, and Patrick Labyorteaux celebrate their 100th. Bell refused the Opera House cake, saying, "I have to get into a bikini."
JAG is making sure everyone knows its 100th episode is filmed in Australia. "The episode's called 'Boomerang,'" explains Perth boy Trevor Goddard, who plays Mick Brumby. "A bit clichèd, but so is 'Brumby'" - a surname contributed by the son of executive producer Donald P Bellisario's Australian wife, Vivienne. But Goddard isn't complaining about being here: "It';s beaut. There's no comparsion. In LA we're stuck in the bloody studio." Will he play tour guide for his visiting pals? "Yeah, I'm taking them down to Kings Cross," he laughs.
| | | |
| --- | --- | --- |
| | From left: Bell, Elliott, who despite being made up to the contrary is "having a good time", and former boxing pro Goddard. | |
For David James Elliot, aka "Harm" Rabb Jr, this is his second assignment here - he visited a few years ago to promote JAG and holiday in Port Douglas in North Queensland. On this mission though, "I've been running and stuff through [Sydney's] Botanic Gardens and I'm hoping to get some surfing in." Shooting is leaving little leisure time but he's coping. "I'm yet to meet a bad Australian. Food's great." Really? "Aside from the Vegemite, everything's been very nice."
---
First appeared 22nd January, 2000