JAG
First appeared in Who Weekly, 19th June, 2000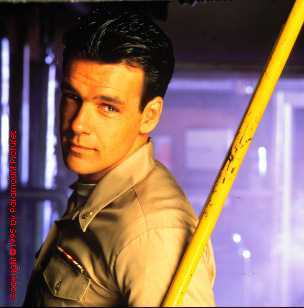 Top gun lawyer: David James Elliott is flying high in JAG.
Our hero Harm is all at sea and right up in the air as JAG returns for a fifth season. Apparently, the producers felt Lt Cdr Harmon "Harm" Rabb Jr (David James Elliott) was getting to close to the beautious Sarch "Mac MacKenzie (Catherine Bell), so they've promoted her to Colonel and cured his night blindness so he can return to flight duties. The new series, with the usual monopoly of gung-ho jingoism, sees Harm going all Top Gun as he flies "Bad Man One" from the decks of the USS Patrick Henry (played by the USS Stennis) on Kosovo-related duties in the Adriatic Sea. His flight helment is inscribed "Pappy".
Just about everyone has a nickname in JAG, and in this "to be continued" episode it's "X Man" (Lochlyn Munro) who causes Harm angst. X Man is a glory hound who believes he's the best thing on two wings but stuffs up by blowing away a trio of Russian peace keepers. Not a smart move when you consider orders: "To keep the Yugoslavians in line without antagonising allies, especially the Russians."
Back on the ground, Col. Mac is court martialling a weapons instructor charged with burning down a chunk of woodland while drunk. This mentioned only because the defence lawyer is Australian naval officer Mick Brumby(!), played by Trevor Goddard, who should be charged with cruelty to an accent.
According to the people from JAG, it is "a Top 10 series in Australia." So was Baywatch, once.
---
First Appeared 18th June, 2000