Glamour galore Down Under
JAG stars come out to play on the Manly beachfront
(I have no idea which paper this appeared in! Thanks to Clare for sending it.)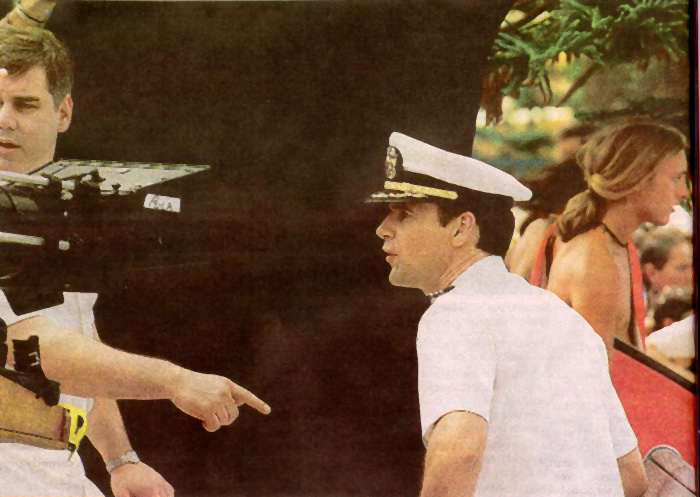 David James Elliott....walks and talks on the Manly beachfront promenade
Interviewing the stars of the American superhit television series JAG, filmed in Manly during the week, is diffcult, even for TIMEOUT.
There are reports of multiple publiciists accompanying the cast and crew of the 100th and 101st episodes being filmed here - the series is currently rated the third most popular show in the US.
You have to see a publicist, to see a publicist, to evenually talk with the stars of the show - David James Elliot and Catherine Bell.
It seems there are even a couple of people employed to erect the mobile barriers to exclude the public.
Never mind the stars, the publicity team looks as though it's also made up for a day in front of the cameras. There was plenty of glamour going around this week.
And Manly, with its near absolute beachfront restaurant strip, played its part in that glamour.
JAG executive producer Donald Bellisario said Manly was chosen because he wanted to create a character who owned a restaurant by the beach.
In the show, Harm Rabb (Elliott) comes to Manly and is followed out here by his partner Mac (Bell).
Not much else is being revealed but, suffice to say, there's sure to be much mystery, some criminal activity and plenty of furtive glances between the two stars. Bellisario said that show, a military legal thriller, has clawed its way to its current high position in the US ratings.
"One network took the show on but dropped it after 22 episodes," he said. "CBS picked it up mid-season."
The rest, as they say, is history. David said the ratings and demographics of JAG have not stopped growing since it went over to CBS.
It's an almost unreal situation for Trevor Goddard who plays Lieutenant-Commander Mic Brumby, of the Royal Australian Navy, in the show.
Brumby, a former professional boxer who comes from Perth, went to American to fight for a living in 1986 and after appearing in some television commercials and playing the bad guys in some movies, ended up on JAG. When he left for America he had no idea about acting.
"It beats getting knocked down in the ring that's for sure," the 34-year-old said.
Patrick Labyorteaux, who plays Lt Bud Roberts, agrees, but is still knocked out by the success of the show. "JAG statistically is a hit but the thing I like about the show is that the stories we are telling are about people set in the military environment," he said. "Outside America, Australia is our biggest fan base." By the way, in the episode currently being filmed in Manly, Patrick's character has an accident and is put "out-of-action" for three episodes. "All I'll say is that Trevor gets to use some of his boxing skills," Patrick said. The landmark 100th and 101th episodes will not be seen on Australian television for about seven months.
---
First appeared 23rd January, 2000