From JAG to riches
First Appeared in The New Weekly, January 31, 2000. By Jacqui Lang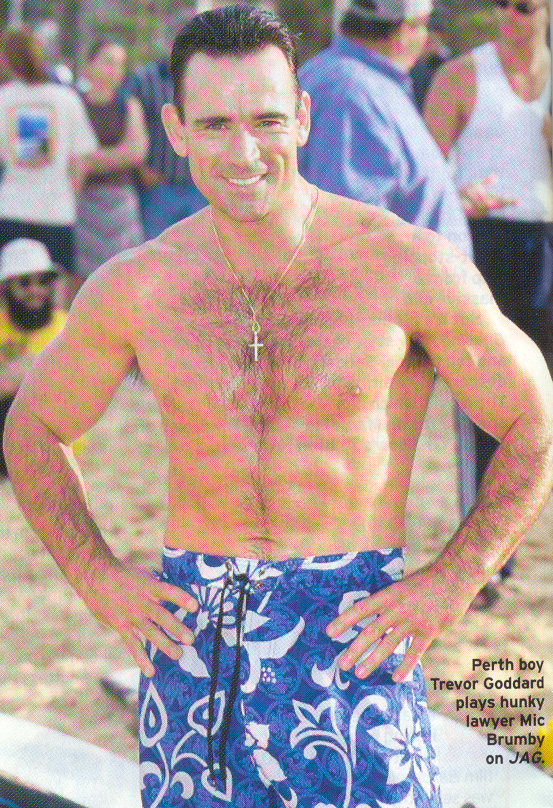 Thank goodness for make-up and white slacks! Trevor Goddard, Aussie star of top US action series JAG, has a bad hangover, but, with help, still manages to look daisy-fresh. It's just as well; he's about to go on-set in navy whites to play lawyer Mic Brumby for JAG's key 100th episode, shot in Sydney's beach-side Manly. And though wearing long white socks with shorts is "bloody awful", being part of a top-rating American show is a dream come true for the former car thief.
"And being paid to come back to Australia is fantastic, mate," he grins.
We're on the lush lawns of Manly's International Catering College, which is disguised as a courthouse. Around us, extras are milling in the fierce heat, dressed as TV reporters. The show's two stars, David James Elliott and Catherine Bell, sit in the shade awaiting their call. Close by, Trevor is also seated, being powdered by a make-up artist, a production assistant asking him if there's anything else he wants. "No, mate," grins Trevor, knowing that nothing short of 40 winks will dispose of his headache.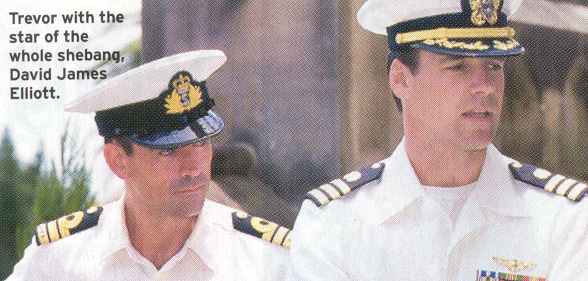 "At night, I'v been hanging around the Cross (Note: He is talking about Kings Cross) a bit lately, doing a few bits and pieces," he winks. "It'll probably cause a divorce when I get home! But seriously, it's just great to be home, and I'm making the most of it."
But despite his evening excesses, 40-year-old Trevor works out for at least two hours a day to keep his body in shape. "I have to wear my Speedos in this episode!" he says.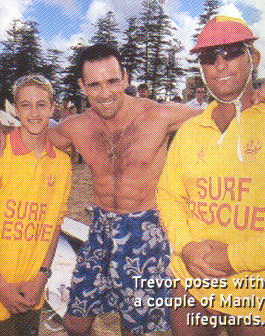 It was actually Trevor's physical prowess - as a professional boxer - which first caught Hollywood's eye. A TV commercial lead to bit parts in TV soaps and, later, action flicks. Snaring the role on JAG has been his greatest career move.
"It's the first time I've been called to play a good guy," he says. "Everyone here is really nice; they took me in and made me feel comfortable straight away. And I must say, being leading lady Catherine Bell's love interest is good fun."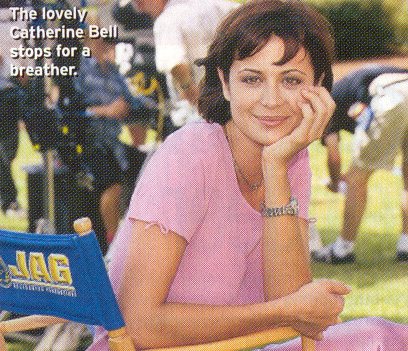 In real life, Trevor's married to American aerobics instructor Ruthann McCarthy, with whom he has two small boys. She is, he says, an exceptional American woman. "Australian women are beautiful. American women are a bit more superficial, especially in LA, where they're after the money and the car," he reflects.
Listening to Trevor, who grew up in the humble Perth suburb of Balga, he still sounds very much the larrikin. "One day," he says, "we will move back home and settle in Perth. I left Perth as a nobody; a boxer."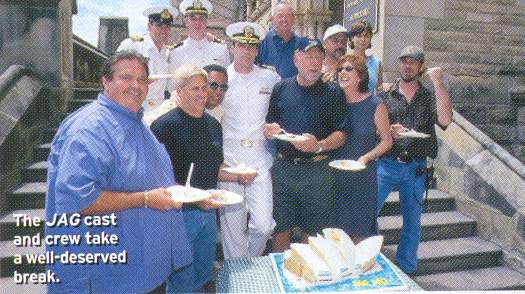 Trevor admits to being a troublemaker as a youngster, dropping out of school early and enjoying pinching the odd car. Last June, when he went back to WA for a brief family visit, he again found himself in trouble.
The actor claims a gang of thugs viciously attacked him, smashing his face to a bloody pulp and leaving him needing 17 stitches. He'd been walking two female friends back to their car after a restaurant meal, when a gang turned on him.
"The JAG producers were nervous about the scars, but the make-up guys hid them pretty well and, in the end, the producers decided, "Well, they fit your character, we guess!"
---
First appeared 24th January, 2000