Chick in Charge
First appeared in TV Week February 12, 2000. By Marina Williams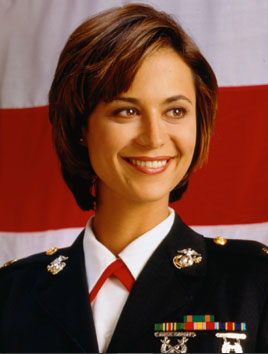 Travelling through the Australian outback is high on JAG star Catherine Bell's wish list. But a tight film schedule could well mean that she will be out of luck - this time!
"I vow to come back," sayd the stunning actress, on a break during filming the episode titled "Boomerang".
Set to screen in the US the day after Catherine returns to LA on February 8, Australian JAG fans will have a longer wait to watch the episode they helped inspire.
"Unfortunately, everyone here will have to wait until later in the year. If it wasn't for them, we wouldn't have gotten this far," she says, referring to the special 100th episode.
"The Australian fans helped keep the show going, for which we're very grateful."
Since joining the cast of JAG in the second series, Catherine has slowly watched her character, Colonel Sarah "Mac" MacKenzie, develop into a strong television role model.
"I love playing a high-ranking female officer. I get to tell the boys what to do!"
She also has the honor of playing two different charcters in the series.
"Yes, I came back as Sarah after my first character was killed off in one episode. I really wanted the role of Mac and I convinced the producers to give it to me."
While this latest series brings a possible love interest for Mac in the form of Australian actor Trevor Goddard playing Lieutenant Commander Mic Brumby, Catherine is keeping her own homegrown romance alive and well, travelling with her husband Adam and catching up with some of their Australian friends.
"We're friends with Phil and Kate Ceberano (Note: Kate Ceberano is a well known singer here in Australia and Phil is her brother) - and Phil has a full itinerary planned for us while we're over."
"I love it here; it's a beautiful place. I love the accents, too - I could listen to them all the time."
---
First appeared 8th February, 2000